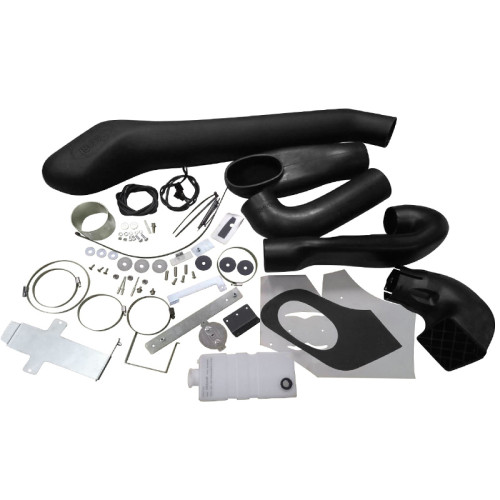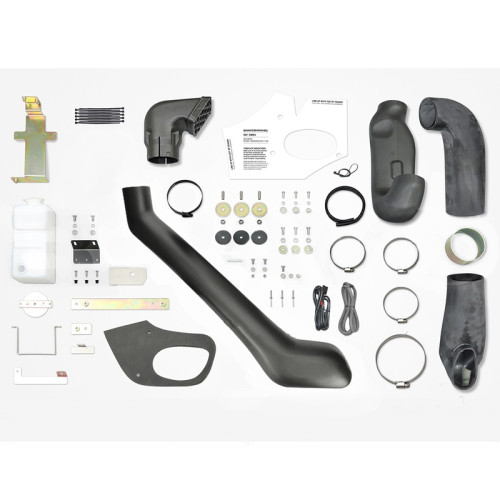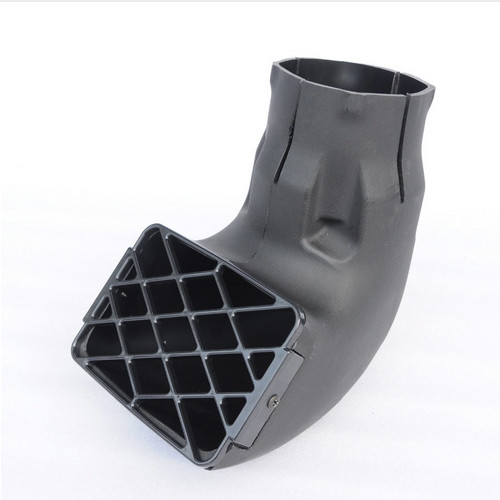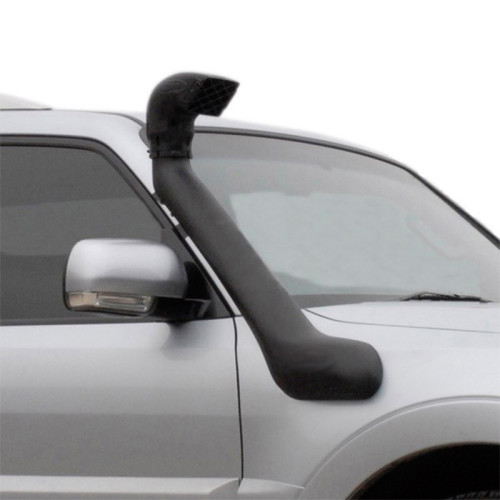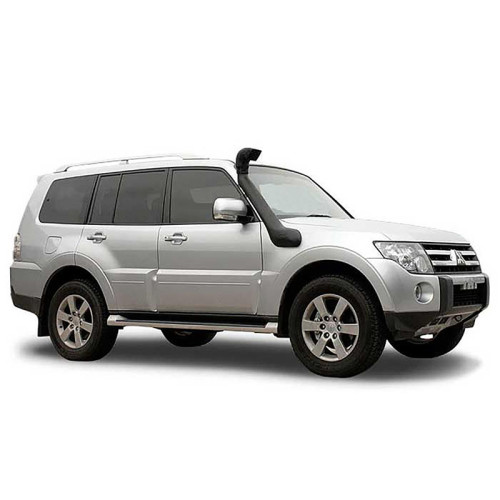 Snorkel for Mitsubishi Pajero NS & NT V8/V9 Series
Item specifics
Brand

YOTO
OEM

YES
MOQ

10 PCS
Order

Dealers/ Wholesale Buyer/ Purchasing Agent
Delivery

20days
Description
Snorkel for Mitsubishi Pajero NS & NT NW V8/V9 Series
The SS41HF Mitsubishi Pajero 4x4 Snorkel is designed to deliver a huge volume of the coolest and cleanest air possible into the stock air cleaner assembly of NW 3.2L Diesel engines.
With the huge air flow demands of each engine in the Mitsubishi NW 3.2L Diesel Pajero, took the decision to design a snorkel system that raised the air intake to prevent ingesting harmful elements to the vehicles air cleaner.
Mitsubishi Pajero 4x4 Snorkel Features
•
Raised air intake to prevent your engine from ingesting harmful elements
•
Increased airflow for your NW 3.2L Diesel engine
•
Water separating air ram design to remove water from the air stream
•
Durable and UV stable snorkel and air ram for added strength
•
Comprehensive Mitsubishi Pajero 4WD Snorkel fitting guide with an accurate template for assisting with installation.
Snorkel - Mitsubishi Pajero 4x4 Snorkels for NW 3.2L Diesel Models
Part Number

Year

Engine

Capacity

Fitment side

Fuel

Size

NS Series 2/06 - 12/08 2007 - Onwards

6G76

3.8Litre-V6

Right

Petrol

35*16*141 cm

4M41-T

3.2Litre-I4

Right

Diesel

NT Series 12/08 - 2011

6G76

3.8Litre-V6

Right

Petrol

4M41-T

3.2Litre-I4

Right

Diesel

NW Series 2012 - Onwards

4M41U

3.2-Litre

Right

Diesel
Snorkel Mitsubishi Pajero 4x4 Kit - Parts List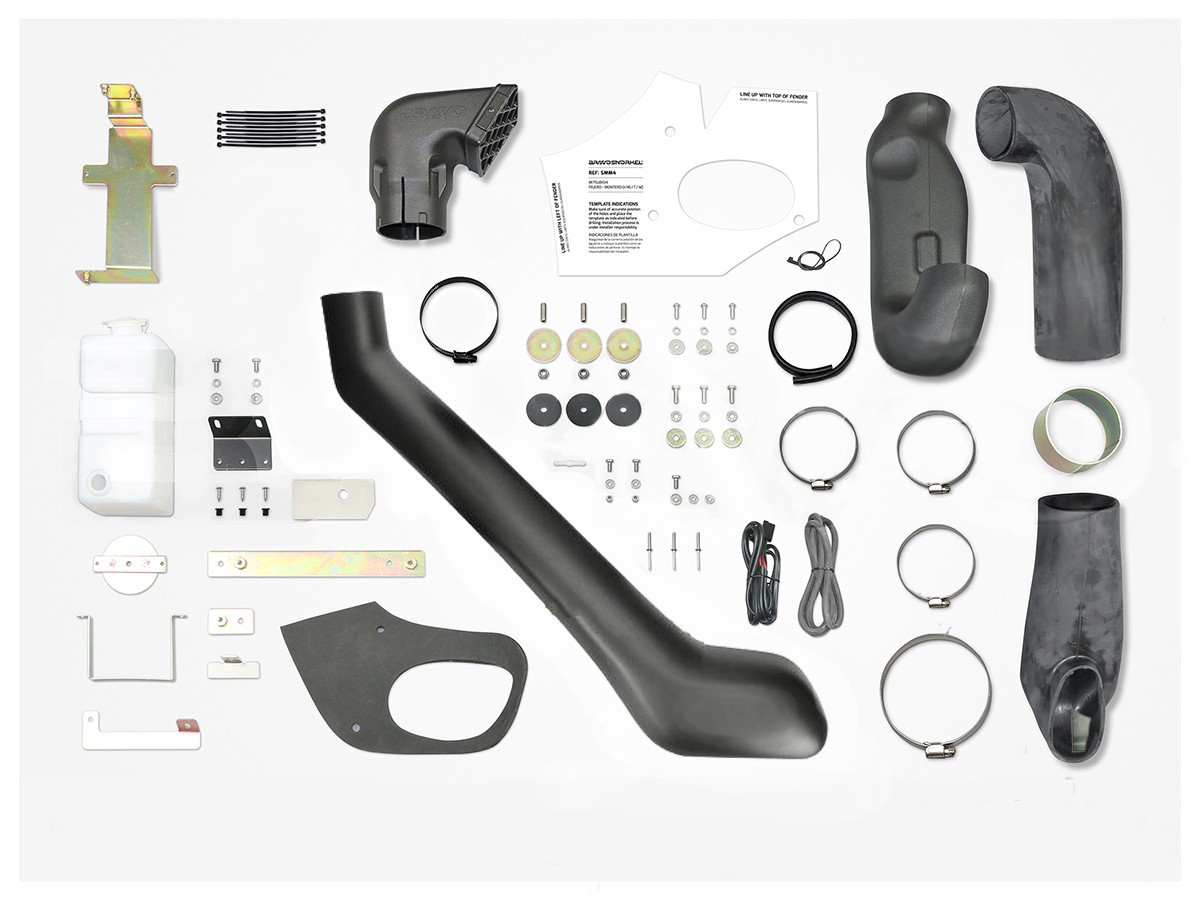 | | | |
| --- | --- | --- |
| ITEM | DESCRIPTION | QTY |
| 1 | BODY - SNORKEL (SS41HF) | 1 |
| 2 | 3 ½" AIR RAM ASSEMBLY | 1 |
| 3 | BRACKET - UPPER MOUNTING | 1 |
| 4 | INSERT - PLASTIC | 3 |
| 5 | SCREW - S/T 4.2mm x 16mm | 3 |
| 6 | BOLT - HEX 6mm x 1.0mm x 14mm (SEMS) | 3 |
| 7 | STUD - S/S 8mm x 1.25mm x 25mm O/L | 3 |
| 8 | WASHER - 8.5mm x 45mm x 1.6mm | 3 |
| 9 | WASHER - RUBBER - 8.5 x 45 x 3mm | 3 |
| 10 | NUT - NYLOC 8mm x 1.25 - S/S | 3 |
| 11 | CLAMP - HOSE - 120/140mm | 1 |
| 12 | HOSE - INNER GUARD (REAR) | 1 |
| 13 | JOINER - 90mm OD x 60mm LONG | 1 |
| 14 | HOSE - INNER GUARD (FRONT) | 1 |
| 15 | CLAMP - HOSE - 80/100mm | 3 |
| 16 | BRACKET - HOSE SUPPORT | 1 |
| 17 | DUCT - AIR CLEANER ENTRY | 1 |
| 18 | CABLE - TIE 8mm x 500mm | 1 |
| 19 | POP RIVET - 4.8mm x 21mm | 1 |
| 20 | FIXTURE - HOLESAW CENTRE | 1 |
| 21 | POP RIVET - 4mm x 12mm | 2 |
| 22 | BRACKET - AIR CLEANER RELOCATION | 1 |
| 23 | BRACKET - AIR CLEANER RELOCATION | 1 |
| 24 | WASHER - BODY 8mm x 24mm x 3mm | 3 |
| 25 | BOLT - B/H SOCKET SCREW - 6mm x 16mm | 3 |
| 26 | PLATE - INDICATOR BLANK-OFF | 1 |
| 27 | HOSE CLAMP - SIZE 56 (BLACK) | 1 |
| 28 | GASKET - FOAM BODY (SELF ADHESIVE) | 1 |
| 29 | TEMPLATE - GUARD PANEL | 1 |
| 30 | WASHER BOTTLE - PLASTIC | 1 |
| 31 | BRACKET - WASHER BOTTLE MOUNTING | 1 |
| 32 | CLAMP - WASHER BOTTLE MOUNTING | 1 |
| 33 | BRACKET - WASHER BOTTLE SUPPORT | 1 |
| 34 | BOLT - HEX - 6mm x 1.0 x 20mm | 2 |
| 35 | WASHER - STAR - 6mm - S/S | 2 |
| 36 | WASHER - BODY - 6mm x 20mm | 2 |
| 37 | BOLT - HEX - 6mm x 20mm (SEMS) | 1 |
| 38 | BOLT - HEX - 5mm x 0.8 x 12mm | 2 |
| 39 | WASHER - FLAT - 5mm | 4 |
| 40 | NUT - NYLOC - 5mm x 0.8 | 2 |
| 41 | CABLE TIE - 2.5mm x 100mm | 8 |
| 42 | CONNECTOR - STRAIGHT - 5.0mm | 1 |
| 43 | HOSE - WINDSCREEN WASHER - 4mm ID x 1300mm | 1 |
| 44 | LOOM - WASHER BOTTLE MOTOR EXTENSION | 1 |
| 45 | CABLE TIE - 4.5mm x 180mm | 2 |